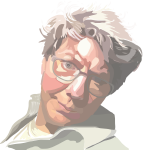 Tammy Renée Brackett creates work that poses epistemological questions regarding identity, categorization, and location. Her most recent work explores the complex relationships between humans and animals, particularly the white tailed deer.
Brackett has an MFA in Electronic Integrated Art from the School of Art and Design at Alfred University and has exhibited work in China, Japan, Croatia, Hungary, and the United States. She is a recipient of the College Art Association Professional Development Fellowship for Visual Artists, funded by the NEA. Her work has been included in the Albright Knox's biennial exhibition Beyond/In Western NY, at the Ball State Museum of Art, and in a solo show titled Deer Dear at SUArt Galleries in Syracuse NY.
Brackett is currently Professor of Digital Media and Animation at Alfred State College, Alfred NY.